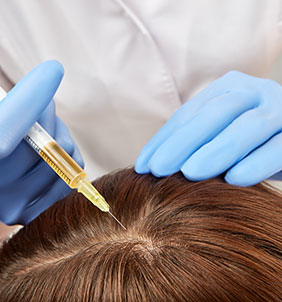 Using components of your own blood to restart natural hair growth
Both women and men can suffer from hair loss or thinning hair which most find very distressing. Thankfully, PRP Hair Restoration can help!
Platelets, which are found in blood, contain growth factors and other components which have been found to help regrow hair in people with hair loss or thinning hair. During the process we use your own blood platelet rich plasma to promote hair growth. We will draw a small amount of your blood from your arm, then prepare it for injection into your scalp in areas with hair loss.
The length of the procedure will depend upon the size of the area on your scalp to be treated, but it usually takes about 30 minutes.
We suggest a series of 3 or 4 treatments – having 1 treatment every 4 to 6 weeks. Most patients report the best results if they have a second series of treatments.
The cost for each treatment is $600
Buy a package of 3 for $1,600
Buy a package of 4 for $2,000
Your ideal face is waiting.